25% off Dental Check–ups at Smiles Dental Waterford
Share
On 1 Feb 2016
25% off Dental Check-ups
Did you know that regular
dental check-ups
are the key to great dental health? That's why we're giving our patients a whole 25% off dental check-ups when they book in at
Smiles Dental Waterford
! We want to encourage you to get your oral health in check for 2016 and the first step in doing so is booking yourself in for an exam with our friendly, experienced Smiles team. 25% off dental check-ups means you can get checked out for only €30! Terms and conditions apply.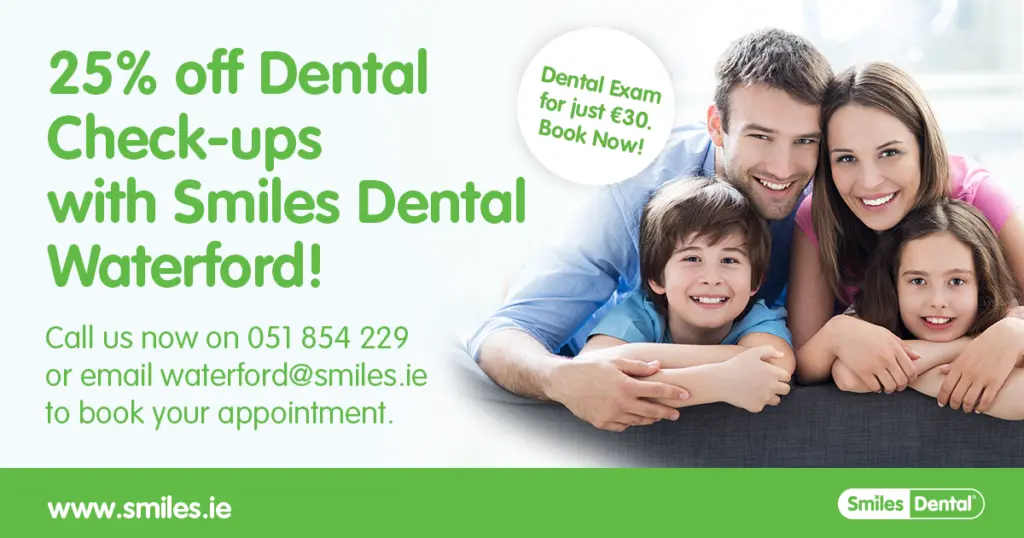 Regular check-ups are key to great dental health
Making time to get your oral health examined every six months means that you can tackle any problems that arise quickly and efficiently. Your mouth can be an indicator of your overall health according to the Dental Health Foundation. Likewise, if you're suffering from a persistent oral health condition that is left untreated, it can affect your overall health as a result. Your oral hygiene can have a strong impact on the rest of your body.
What happens at a check-up?
Your dentist will assess the condition of your mouth using dental instruments. They may take an X-ray of your mouth, and they'll examine your jaw for tooth or bite problems. They'll assess your need for tooth replacement and present you with a detailed treatment plan, unique to you. During a check-up, your dentist will decide if you need further treatment. They could recommend a simple cleaning procedure or perhaps something like a filling or an extraction if a tooth is decayed or damaged. This means that any problem is tackled immediately and ahead of time. Making sure you catch a problem before it persists will allow you to avoid costly and lengthy treatments in the future.
Take advantage of 25% off dental check-ups! Get in touch with Smiles Dental Waterford now on 051 854 229 or email
waterford@smiles.ie
.
Follow us on
Facebook
,
Twitter
and
Instagram
to keep up with all the latest news and offers at Smiles Dental.
Terms and Conditions
• Offers only applies to private paying patients only
• Only one entry/promotional undertaking per person is permitted
• This offer cannot be used in conjunction with any other offer
• The closing date of offers are determined by Smiles Dental
• We reserve the right to amend these rules at any time
• No cash alternative to a promotion/offer is available
« Back to all articles