February Offer: Exam, Scale and Polish for €65 in Cork!
Share
On 2 Feb 2016
February Special Offer at Smiles Dental Cork
What a fantastic February offer we have in store!
Smiles Dental Cork
are offering an Exam, Scale and Polish for only €65 for the entire month of February! Terms and Conditions apply.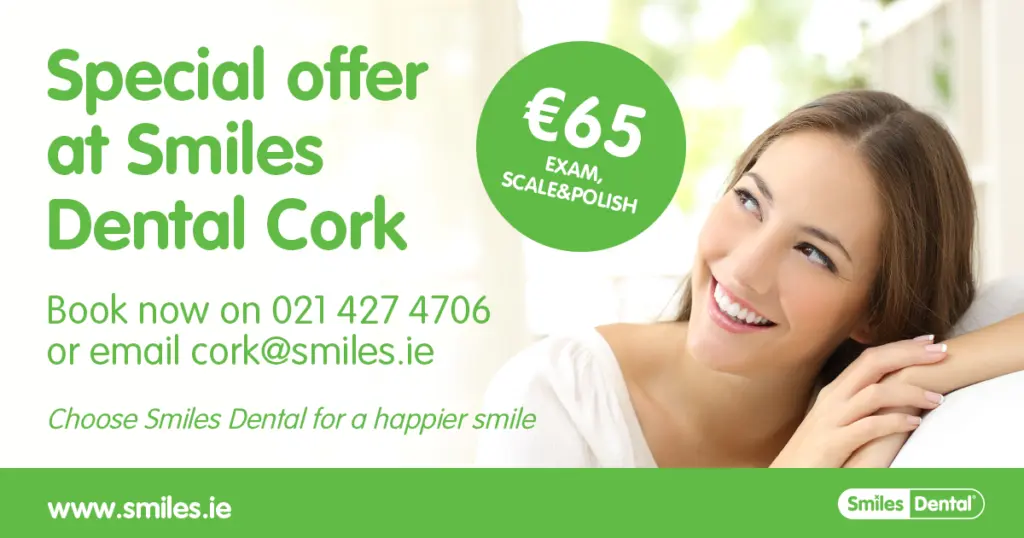 What is involved in an Exam?
Firstly, an "exam" is simply another word for a "check-up". During a
check-up
, your dentist will assess the full condition of your mouth. They'll examine your oral hygiene and take what is called a "dental base chart" of your teeth. They might use an X-ray or another diagnostic procedure to get more information. From their examination, they'll be able to detect any problems and tell you exactly what treatment you may need to follow up with. They'll present you with a tailored treatment plan detailing such and an estimation of pricing. You'll know precisely how much you're going to pay, before you arrive for your next Smiles visit.
And what exactly is a Scale and Polish?
A
scale and polish
is a deep cleaning of the teeth. After your check-up, a
hygienist
will clean all stains and deposits from the teeth. They will remove any build-up of tartar from the tooth surfaces and polish the teeth using dental instruments. You'll get an extra squeaky clean feeling in your mouth afterwards. The procedure should be totally pain-free. If you've a particularly sensitive mouth and feel any discomfort, your dentist can apply an anaesthetic cream to numb the area.
An Exam, Scale and Polish will not only improve your oral health, but the appearance and feeling of your teeth too. This can give a renewed sense of self-confidence to patients, given that their smile is now more aesthetically pleasing and healthier-looking.
To avail of the offer, get in touch with
Smiles Dental Cork
on 021 427 4706 or
cork@smiles.ie
.
Follow us on
Facebook
,
Twitter
and
Instagram
to keep up with all the latest news and offers at Smiles Dental.
Terms and Conditions
• Offers only applies to private paying patients only
• Offer only applies to Smiles Dental Cork only
• Only one entry/promotional undertaking per person is permitted
• This offer cannot be used in conjunction with any other offer
• The closing date of offers are determined by Smiles Dental
• We reserve the right to amend these rules at any time
• No cash alternative to a promotion is available
« Back to all articles