How to have a Healthy and Happy Halloween with COCU Kitchen
Share
On 27 Oct 2015
Sweets, Goodies and Trick-or-treating
Since the dawn of the occasion (which started off right here in Ireland by the way), the Halloween festivities have been largely dominated by parties and a celebration of everything sweet, sugary and ultimately bad for your teeth. So much so that children go on a hunt for sugary treats and weigh up their finds at the end of the night.
How can we make Halloween healthy?
By making some filling, low sugar treats- that's how! Whether you're a trick-or treater, a parent or just want to make sure you've some healthy snacks on hand for the spooky season, we've got you covered.
To celebrate Halloween and make sure it's healthy and as sugar-free as possible, we've teamed up with
Cocu Kitchen
to bring you some incredible and easy-to-make treats for the holidays. Located on
Upper Baggot Street
and with a menu carefully designed by chef Emilia Rowan, they make eating clean easy-peasy. You can thank the guys
@CocuKitchen
for sharing their tasty recipes and let us know what you think over on
Twitter
and
Facebook.
1. Salted Peanut Butter Cups (GF, DF, P, V)
–
Makes 20
These are the perfect little treats to give to trick-or treaters or to keep handy for yourself or the kids. With only five ingredients – they're easy to make. Make sure you choose chocolate over 70% cocoa, the darker the better and the lower the sugar content. As for Peanut Butter, Whole Earth is a great brand that's 100% peanuts, with nothing sugary added.
• 150g of Peanut Butter (Whole Earth)
• 750g Dark Chocolate (over 70% cocoa content)
• 5 tsp Coconut Oil
• 45ml Almond milk
• Maldon sea salt to sprinkle on top (optional)
• Cupcake cases for filling
Instructions:
• Start by slowly melting the chocolate either on a low heat in the microwave or heatproof bowl over a pot of simmering water
• Once melted, stir in the melted coconut oil. The chocolate should be shiny and silky smooth
• Place a teaspoon into each cupcake case and leave on a tray in the freezer for few minutes while you prepare the filling
• Blend the peanut butter and almond milk into a smooth paste
• Remove the tray from the freezer and divide the nut mixture into the cup case containers. Smooth each dollop with your thumb and lightly oil your fingers with coconut oil so the mixture doesn't stick to your hands. Now cover each cup in melted chocolate and sprinkle with Maldon sea salt
• Allow to set in the fridge or freezer
These should be kept in an airtight container for up to a week.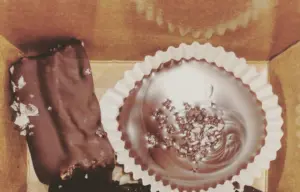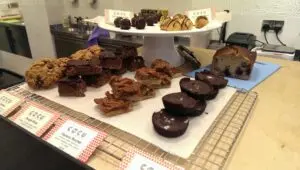 2. Coconut Macaroons- Makes 15 (golf-ball sized)
• 4 egg whites, beaten
• 3 cups desiccated coconut
• Pinch of salt
• 2 tsp Vanilla Extract
• 2 tsp Coconut Oil (melted)
• ¼ Cup Honey/Agave
• Melted chocolate to sprinkle on top (optional)
Instructions
• Preheat the oven to 165C
• Beat the egg whites in a bowl until foamy. Add the remaining ingredients and stir well
• Form small balls by pressing together the coconut mixture (the mixture will be sticky – this is normal)
• Place coconut macaroons on a baking sheet and bake for 15 to 17 minutes, or until the edges are golden brown. Remove from the oven and allow to cool for five minutes before using a spatula to lift them off of the cookie sheet
• When cool, transfer them back to a lined tray and sprinkle the melted chocolate over them using a teaspoon as shown in the picture below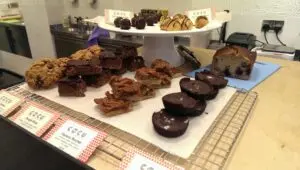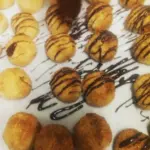 Remember – Halloween doesn't have to be a scary time for your teeth – there's a ton of things you can do to make sure you take extra special care- brush at least twice a day, floss and drink as much water as possible.
It might also be the perfect opportunity to take advantage of the holidays get a check-up at your
local Smiles Dental
.
Just locate
your nearest clinic
and we'll be sure to fit you in at a time that suits you.
Happy Healthy Halloween!
« Back to all articles