Kids Check Ups over the March Holidays
Share
On 9 Mar 2016
We know you know this already, but making sure you commit to regular kids check-ups is key to keeping your family in great oral health. So why not take advantage of the March holidays and
book your child
in for a check-up?
Regular Kids Check-ups are crucial!
Smiles Dental
believes that prevention is better than cure. In Ireland today,
kids
eat a lot of sugar on a daily basis and they're not always brushing their teeth properly or often enough. In the absence of a much-needed check-up every six months, their overall oral health can become neglected. This is what makes regular check-ups so important. By identifying any problems early on, your Smiles Dentist can take the necessary steps to prevent an issue getting worse, avoiding uncomfortable and expensive treatment.
By committing to regular check-ups, you can catch a problem early, before it develops into something more serious. You're giving your child the gift of healthier teeth and gums for now and for the future.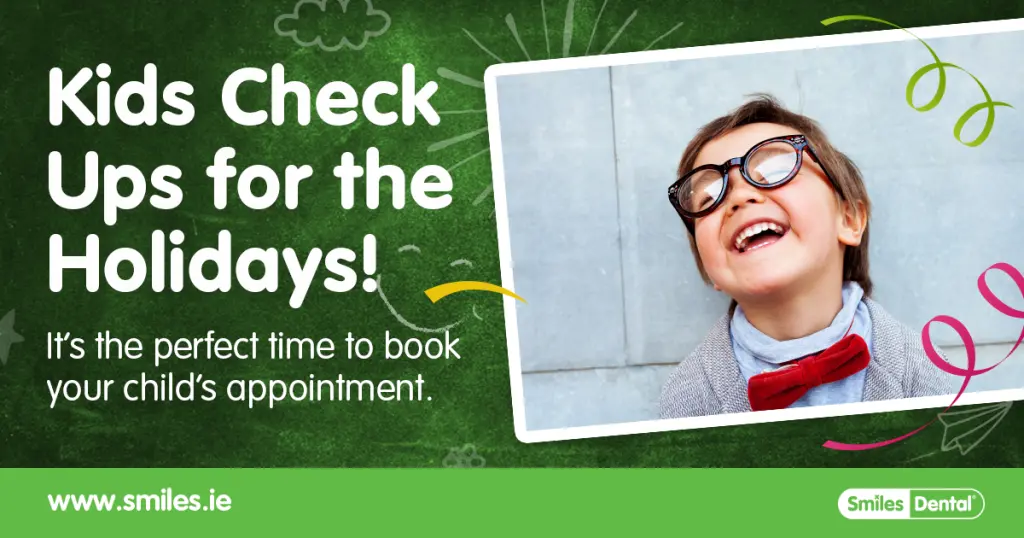 Bring them in while they're off school!
Easter falls early this year, straight after St. Patrick's Day, and that means you've at least two weeks to bring your child in for a check-up. You'll be happy in the knowledge that you're making sure your child has a healthy and happy smile, for now and for the future.
Take them on a dental adventure!
Did you know that we have our very own "
Dental Adventure
" game for kids? To help settle any nerves or fears of the dentist, take your child along with you to one of your appointments and one of our Smiles dentists will be happy to introduce them to the fun-filled world of dentistry. In our worlds – take them on a thrilling
dental adventure
! This is a non-intimidating, relaxed introduction to visiting a dentist and it will create positive associations with looking after one's dental health.
To book your appointment over the March holidays, get in touch with your local
Smiles Dental clinic
and talk to the team there.
Follow us on
Facebook
,
Twitter
and
Instagram
to keep up all the latest news at
Smiles Dental
.
« Back to all articles