Get a straighter smile at Smiles Dental Bray
Share
On 29 Jan 2016
A straighter smile in six months at Smiles Dental Bray
Smiles Dental Bray
are now offering the revolutionary teeth straightening treatment known as Six Month Smiles. Six Months Smiles uses clear, almost invisible braces on your front teeth, to gradually move them into a more aligned position and in a short space of time.
In only six months, you could have the straighter smile you've always wanted and a renewed sense of confidence and self-esteem as a result.
What is involved in Six Month Smiles treatment?
Six Month Smiles
only focuses on the front teeth or what is known as the "Social Six". Your dentist will fit tooth-coloured, clear brackets and wires to the teeth. These will gradually move teeth closer together over time and close any gaps that may exist.
What are the advantages over traditional braces?
Compared to traditional braces,
Six Month Smiles
are much more discreet. As they only focus on the front teeth less force is required to fit them. As such, they offer minimal discomfort to the patient from the start and fit right into your lifestyle. Your quest for a straighter smile can be kept a secret if you like, as they're almost invisible.
Can I afford it?
Six Month Smiles
is also usually less costly than other teeth straightening treatments. For information on pricing, see our
pricelist
or get in touch with your
nearest Smiles.
All of our pricing is open and honest, so you know exactly what you're going to pay, ahead of your visit.
To talk to the
Bray team
about Six Month Smiles, get in touch on 01 274 5111 or
bray@smiles.ie
. Our team would be happy to discuss whether Six Month Smiles might be a fit for you.
Like us on
Facebook
,
Twitter
and
Instagram
to keep up with all the latest news and offers at Smiles Dental.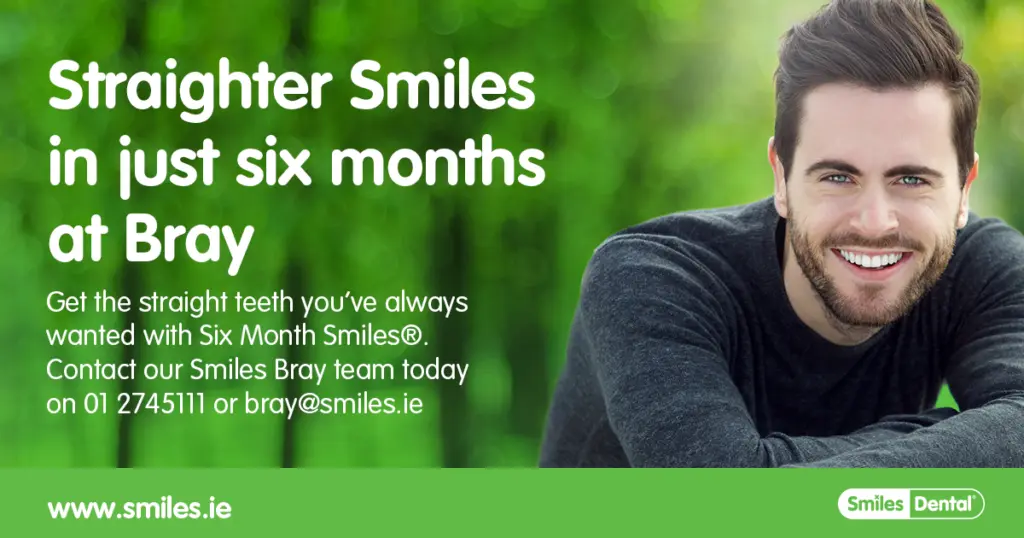 « Back to all articles