Teeth Straightening at Smiles Dental Waterford
Share
On 11 May 2016
NEWS: 
Smiles Dental Waterford
are now offering teeth 
straightening treatments
Six Month Smiles
, C-Fast and
Invisalign
!
A straight smile can change your world
Always dreamed of having a straighter smile? Conscious that summer 2016 is on its way and you want to look your absolute best?
That's why we're here.
We know that many adults have dreams of straightening up their smile, but don't want to go to the trouble of getting braces fitted. They feel that their time for
fixed braces
has passed and that it's something they should have done in their childhood or in their teenage years.
But did you know that there are quicker, almost invisible options available?
At
Smiles Dental Waterford
, we offer three orthodontic treatments that are specifically designed to give you a straighter smile quickly, discreetly and efficiently.
Invisalign
Invisalign
is a teeth straightening treatment that is almost invisible to the naked eye, comfortable and discreet. This means that it fits directly into your lifestyle.
Invisalign
treatment consists of aligner trays, made of clear material, which are fitted over your teeth. Tailor-made to fit your mouth, they are changed every few weeks. This gradually moves your teeth into alignment. You can think of Invisalign as a type of teeth straightening retainer – except a lot less noticeable and more comfortable.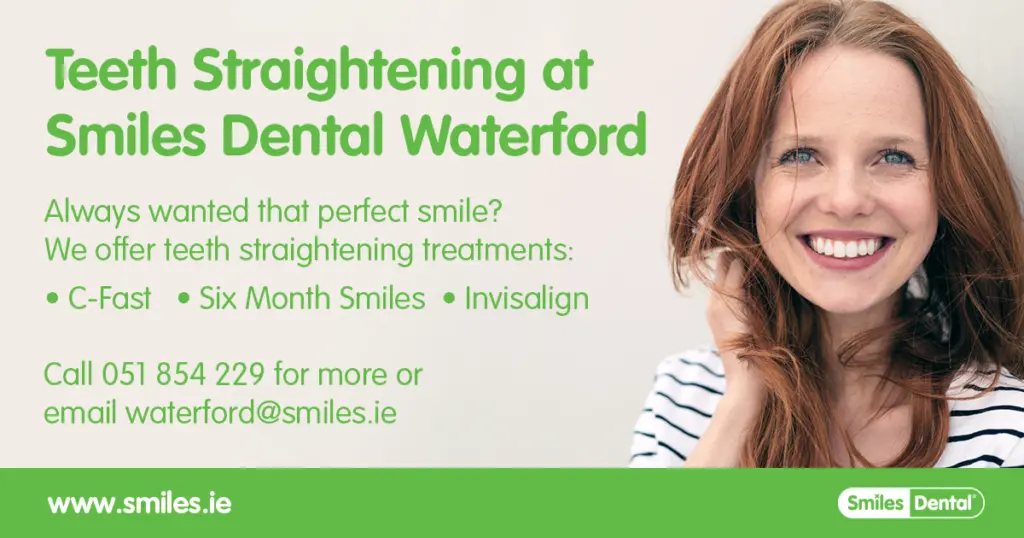 Six Month Smiles
Six Month Smiles
involves the use of a tooth-coloured clear brace that is virtually invisible and fitted to teeth to close gaps and move the front six-eight teeth into alignment. This results in a straighter smile in usually around six months. Unlike
fixed braces
, which require force be fitted into the mouth, Invisalign fits right into your busy lifestyle, ensuring that you feel comfortable as your smile undergoes discreet teeth correction.
Cfast
Similar to
Six Month Smiles
, Cfast involves the use of tooth coloured brackets and wires to straighten the front six-eight teeth. Likewise, it is discreet and worn for a minimal amount of time in comparison to traditional braces.
Six Month Smiles
, Cfast and
Invisalign
are designed to give you a straighter smile in no time at all. All treatments offer flexibility, discretion and comfort and are ultimately cost-effective options that offer quick results, when compared against
traditional
braces.
Talk to your
Smiles Dental Waterford
team about our teeth straightening options by calling 051 854 229 or emailing waterford@smiles.ie.
Don't forget – follow us on
Facebook
,
Twitter
and
Instagram
to keep up with all the news at
Smiles Dental.
« Back to all articles