Unwrap our Christmas Special Offers!
Share
On 27 Nov 2015
Unwrap A Smile This Christmas
Christmas is right around the corner and so are bright white smiles for the festive season too! Treat yourself or a loved one to a sparkling smile this Christmas with our three fantastic Christmas Offers:
• An
Exam, Scale & Polish
plus Whitening Toothpaste for
€65
•
Exam, Scale & Polish & Home Whitening
treatment for
€240
•
2 x Exam, 2 x Scale & Polish
and
10% OFF
all dental treatments in 2016 for
€125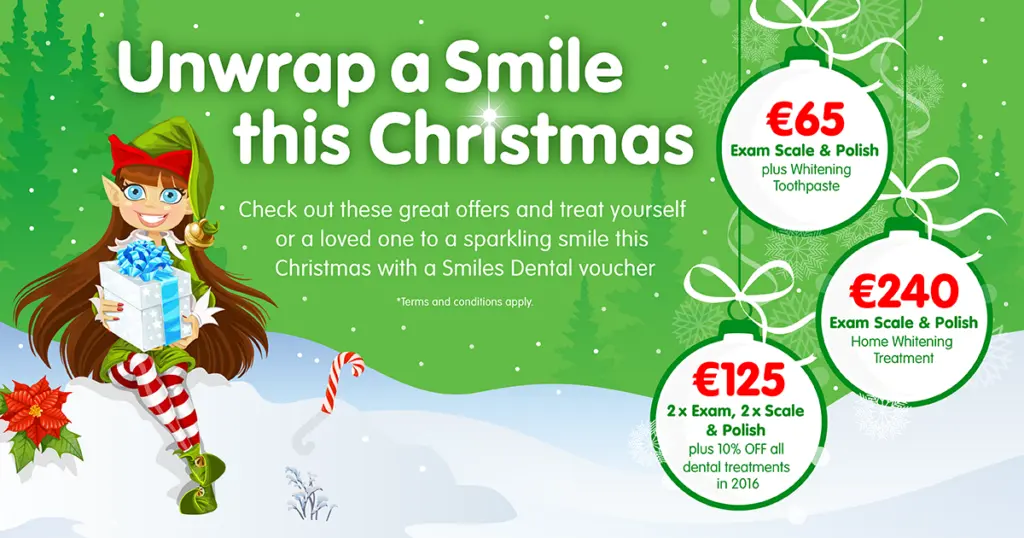 Putting The Sparkle In Your Smile This Season
The Christmas and New Year season is packed with events, parties and social gatherings. What better a time to make sure that your smile is as perfect as possible. Recent research suggests that a gleaming smile can make you feel instantly more confident, stand taller, be more assertive and even impact on your self-esteem in different areas of life. Be proud of your smile this Winter and with our fantastic offers – you can do so in an affordable, professional and friendly atmosphere. Just get in touch with
your local Smiles
for more.
The Ultimate Gift of a Smile this Christmas
Wondering what gift might put a smile (quite literally) on a loved ones face? A Smiles Dental Voucher! You can treat someone special to a Christmas voucher at Smiles Dental for one of our fantastic offers above, or to any value that you like – you decide the amount. We've special vouchers in all or our Smiles Dental clinics for purchase. Just
contact your local Smiles
for more information.
_____________________________________________________________
Unwrapping Time – what's on offer?
Exam, Scale & Polish plus Whitening Toothpaste for €65
An Exam, Scale & Polish allows a dentist to fully exam your oral health. Then, they will scale away any build up of plaque, clean and polish your teeth. You'll walk away enjoying an utterly clean, fresh feeling in your mouth. We'll also gift you a tube of our special Whitening Toothpaste which is specifically formulated to whiten up your smile.
Want to avail of this offer? Locate your
nearest Smiles Dental
– we're happy to chat.
Exam, Scale & Polish plus Home Whitening treatment for €240
You'll get the clean, fresh feeling with our "Exam, Scale & Polish" treatment", but the added bonus of our Home Whitening treatment. Home whitening allows you to enjoy the safe and professional experience of whitening in the comfort of your very own home. Your Smiles Dentist will demonstrate how to use your kit. This is the ideal treatment to get you looking and feeling your best and donning your New-Year worthy smile for the party season that's ahead.
Get in touch with
your local Smiles
to get your party-perfect Smile this season.
2 x Exam, 2 x Scale & Polish and 10% off dental treatments in 2016 for €125
Plan to focus on your dental health for 2016? Good for you! This offer is ideal then, as you'll get two dental exams and two scale & polishes (to take whenever you want during 2016) and 10% off routine dental treatments with Smiles Dental for the whole of 2016. That's right and all of this for just €125! This would make an exceptional gift for yourself, another couple, a friend- whomever you like.
Find more about this offer by getting in touch with your
nearest Smiles Dental clinic.
Our Christmas Offers are available in all 19 Smiles Dental clinics nationwide, so
find your local Smiles Dental
today and pave your way towards a whiter, brighter smile for 2016.
A very Merry Christmas from everyone at Smiles Dental.
Terms and Conditions
• Offer only applies to private paying patients only
• Only one entry/promotional undertaking per person is permitted
• This offer cannot be used in conjunction with any other offer
• The closing date is determined by Smiles Dental
• We reserve the right to amend these rules at any time
• No cash alternative to a promotion is available
« Back to all articles