Dental Implants in Limerick!
Share
On 10 Jan 2017
Great news for Limerick!
Great news!
Smiles Dental Limerick
is now offering
Dental Implant treatment
in the heart of Limerick City!
Dr Liam O'Sullivan
will providing this life-changing treatment for the people of Limerick. With over 20 years experience, Dr O'Sullivan has successfully placed hundreds of dental implants for our patients all around Ireland – and now he's coming to Limerick.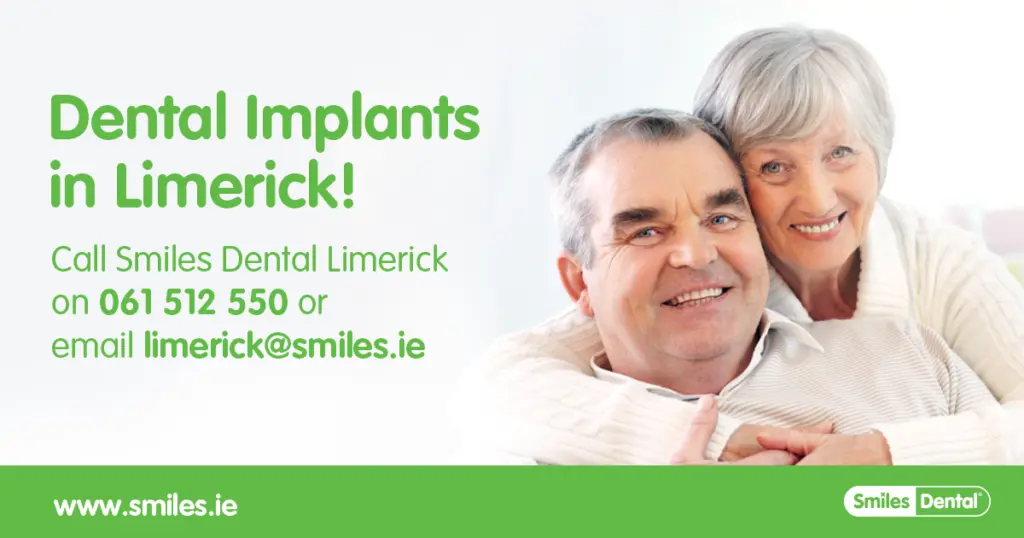 What is a Dental Implant?
Put simply,
Dental Implants
are the permanent solution to missing teeth and uncomfortable dentures. They're the ideal solution for people who have suffered a lost tooth through a sports injury, or decay. The implant itself is a small titanium screw, which replaces the root portion of a missing natural tooth. A crown is then attached to the screw and due to the biocompatible nature of titanium, the implant can fuse with your jawbone providing a solid and secure anchor for your new tooth.
We find
Dental Implants
to be very popular as not only do they restore the appearance of your smile, but they restore the function too. This allows you to smile, laugh and eat whenever and whatever you like.
Why choose Smiles Dental Limerick?
Smiles Dental Limerick
is our newest practice, located in the heart of Limerick City. Practice Manager Samantha Enright is a local lady, and her team are all experts in their fields. You can expect a warm welcome and exceptional patient care here, plus our convenient opening hours make it easy to get appointments. We open until 8pm during the week and we're open Saturdays too.
Dental Implants Limerick
So if you're missing a tooth, or wearing awkward dentures, why not book a consultation with
Smiles Dental Limerick
? Our expert team is standing by to help you achieve the happy healthy smile you deserve.
Call Smiles Dental Limerick now on 061 512 550 or email limerick@smiles.ie
« Back to all articles