Dental implants: What are the benefits?
Share
On 10 May 2018
The permanent solution to missing teeth and uncomfortable dentures
Having a missing tooth can really knock your confidence. The ability to eat what you please and smile when you like are both very precious; something you realize if you lose them. And while there are a few different solutions for filling gaps in your teeth,
dental implants
offer the peace of mind of a permanent and secure solution.
Special offer
For a limited time we're offering 10% off the cost of implants and FREE consultations. At Smiles Dental we use superior materials to ensure our implants have the best chance of lasting a lifetime. Click
here
to make your booking today. Terms and conditions apply.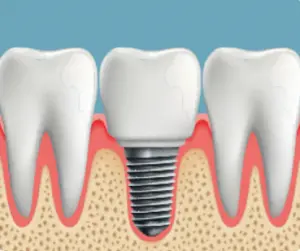 What is a dental implant?
Put simply, a dental implant is a titanium screw that gets inserted into the jawbone in place of a missing tooth. A small post gets attached to this screw and a natural-looking crown is then fixed to the post. This in effect, replaces both the look and function of the missing tooth. Because of the biocompatible natures of titanium, the screw will stay secure in your jawbone – leaving you free to eat and smile as you please.
Five reasons to choose dental implants over a bridge or denture
1. If cared for properly implants can last a lifetime with relatively low maintenance compared to other option.
2. Implants don't interfere with your other teeth. Some crown or denture options require the adjustment of healthy teeth to accommodate them. Not so with dental implants.
3. With dental implants you can eat whatever foods you wish. With dentures, some foods can be tricky to eat.
4. Just like a natural tooth, an implant will stimulate the jawbone and prevent bone loss that can make you look prematurely aged. Crowns, bridges and dentures will address short-term cosmetic problems, but they don't stop the jawbone loss that can occur as a result of tooth loss.
If you're interested in
dental implants
just contact your local Smiles Dental practice. For a limited time we're offering 10% off the cost of implants with free consultations (T&Cs apply). For a quick and easy quote request and to make your booking just click
here
.
Terms and conditions
10% discount applies to the total cost of implant treatment plan agreed
In order to avail of the offer a patient must book their consultation between May 7th 2018 and June 3rd 2018. The offer will be honoured if a patient attends their appointment after this date given they booked their consultation in the stated time period
Offer subject to appointment availability
Offer available in select Smiles Dental practices only
Dental implant treatment is subject to patient suitability as determined by Smiles Dental
Only one entry/promotional undertaking per person is permitted
This offer cannot be used in conjunction with any other offer
The closing date of this offer is determined by Smiles Dental
No cash alternative to a promotion is available
Smiles Dental Reserves the right to amend these rules at any time
« Back to all articles