Free Dental Check-ups in Smiles Dental Balbriggan!
Share
On 15 Aug 2016
Free dental check-up for EVERYONE!
Hold onto your hats because we do not do Special Offers like this very often!!
Smiles Dental Balbriggan
is holding the special offer to end all special offers: FREE Dental
Check-up
for everyone!!!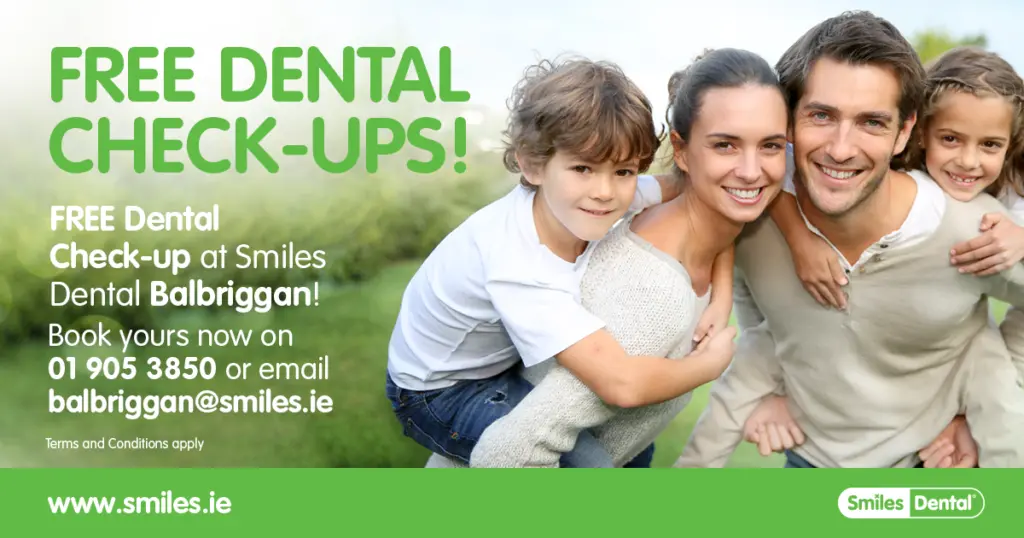 That's right, everyone! Whether you've got a medical card or are a private patient, it makes no difference you can get a FREE dental check-up with our
Balbriggan
practice. (T&Cs apply).
Why get a Check-up?
Dental check-ups are the foundation of any good oral health care routine. It's recommended to get a dental check-up once every six months. This enables your Smiles dentist to identify any issues you may have, before they develop into serious (and costly) problems.
What happens during a Check-up?
During a check-up, your Smiles dentist will assess the condition of your mouth. They'll examine your oral hygiene and take what is called a "dental base chart" of your teeth. They might use an X-ray or another diagnostic procedure to get more information. From their examination, they'll be able to detect any problems and tell you exactly what treatment you may need to follow up with. They'll present you with a tailored treatment plan detailing such and an estimation of pricing. You'll know precisely how much you're going to pay, before you arrive for your next Smiles visit.
Book your FREE Dental Check-up now call Smiles Dental Balbriggan on 01 905 3850 or email balbriggan@smiles.ie
Terms and conditions
• Offer subject to appointment availability
• Only one entry/promotional undertaking per person is permitted
• This offer cannot be used in conjunction with any other offer
• The closing date of offers are determined by Smiles Dental
• We reserve the right to amend these rules at any time
• No cash alternative to a promotion is available
« Back to all articles