Introducing Zoom Whitening!
Share
On 11 Jul 2016
Fantastic News!
At Smiles Dental, we're super excited to announce the launch of 
Philip's Zoom Whitening
! With Zoom Whitening your smile can be six shades whiter in just one hour!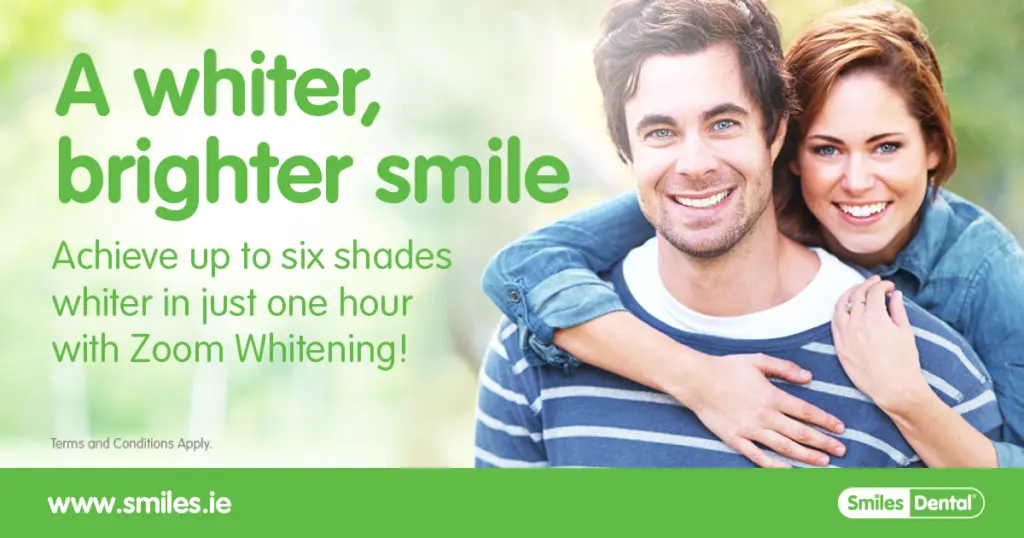 How does Zoom work?
Zoom Whitening involves two visits to your Smiles dentist. Your first visit will consist of a
Dental Exam
to ensure that the treatment is suitable for you. We'll then fit you out for your custom-made trays (for your take home top-ups). At Smiles Dental our patient's safety and comfort is always our top priority. We will never give anyone a whitening treatment (or any treatment) unless it is 100% safe to do so. At your second visit, your Zoom treatment can begin.
Here's how Zoom Whitening works:
1.Your Smiles dentist will cover your gums, lips and the skin around your lips, leaving only your teeth exposed to the special Zoom laser light.
2.Your dentist will apply the Zoom whitening gel that is formulated to work with the Zoom laser light. The gel and the light work together to gently penetrate the top layers of your teeth to remove discolouration and stains.
3.The gel will be applied for three or four fifteen-minute cycles, after which the gel is removed and your teeth are cleaned each time.
4.Once the cycles have been completed, your teeth will be cleaned one last time and you will go home with a brighter, whiter smile. Now simply enjoy your new white smile.
Safe and speedy
Zoom Whitening is 100% medically and clinically sound. Effective and speedy, it can offer teeth that are six to eight shades whiter in just an hour. In the space of your lunch break, you will be on the way to a more confident smile. If you've got a big event like a wedding, holiday or interview on the horizon, Zoom is the perfect confidence booster.
How much does Zoom Whitening cost?
For the price of just €475 you will get your
Dental Exam
, Zoom Whitening and take home top-ups. This is the fast and easy way to get your smile positively sparkling for summer.
Contact
your local Smiles Dental for more and to book your appointment.
Don't forget – follow us on
Facebook
,
Twitter
and
Instagram
to keep up with all the news at
Smiles Dental.
« Back to all articles