Smiles Spotlight: Practice Manager Moises Herrera
Share
On 6 Nov 2018
Moises is a newly appointed Practice Manager at Smiles Dental Grand Canal Square. After graduating in Venezuela as a dentist, he moved away to continue his career. Now residing in Ireland, Moises has the ambition to grow in his role and develop his skills further.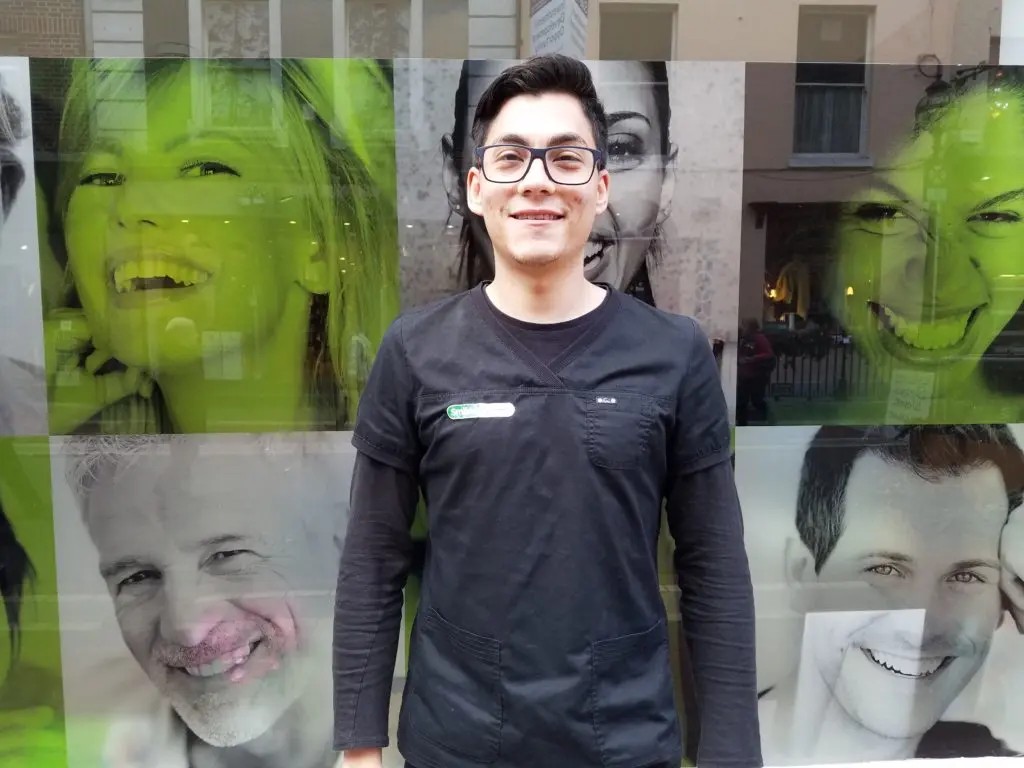 Tell us about your career journey and where it started?
I could say my career started twice. The first time when I decided becoming a dentist in Venezuela 13 years ago, I went to dental school and graduated six years later.
My second start was when I had to leave my country due the political and economic crisis. I went to Miami for a little bit more than one year and then came to Ireland. I joined Smiles Dental as a Dental Nurse, a great company with many possibilities to grow up and develop myself.
When and why did you decide to become a Practice Manager?
Soon after I began working in Smiles Dental, I started looking at my options to progress here in Ireland. I have always liked management, in Venezuela I used to manage my own clinic, so I decided I would make my way up in this direction. In September last year I applied and joined the Compliance Champions Team, then in May I started as a Lead Nurse in the South Anne St practice. In July, I was accepted onto the Practice Manager Academy (PMA) which began in October and, just recently, I applied and got a Practice Manager position in our Grand Canal Square practice.
What has been your biggest achievement?
I can't decide about one biggest achievement, instead I am thinking about many smaller achievements that, together, had brought me to where I am right now: Getting my dentist degree, opening my own practice, getting married to someone I love, being accepted onto the PMA, getting a Practice Manager position… maybe the biggest achievement is still to come.
What's the best thing about your current role?
I'll answer this from a Lead Nurse perspective. The best thing is being able to manage with autonomy the back of the clinic.
I see the Lead Nurse position as an assistant manager role. I lead my team, train them and organize their roster, have a monthly budget and specific targets to meet, like the consumables costs. It is a great transitional position between Nursing and Managing.
What is the most memorable (funny/emotional) story you can recall from the time in your current job?
Just last week when I communicated my Manager (Rebecca) that I was offered the PM position in Grand Canal Square, it was a very emotional moment that I wasn't expecting.
She cried a bit, hugged me and told me how proud she was and how good my pass was through that clinic. She offered to help me and advise me anytime.
We teamed up since the very beginning; she trusted me and gave me the necessary autonomy to make positive changes. It is pleasant to know that I did a good job and that I am leaving the place but keeping a great relationship with her and the rest of the team.
What's the best thing about your job with Smiles Dental?
I couldn't say only one best thing, I believe what is good about working in Smiles Dental is the many good things.
In this company I have found the most important four incentives for me:
– Autonomy to take my own decisions and take risks aiming for positives changes.
– Room for personal development and mastery with opportunities like the PMA.
– Sense of purpose, everyone in Smiles Dental has an important role, we work well if all of us do our part as a team, no position is small.
– Flexibility. In Smiles Dental, we know everyone has a life outside their job, that's why we make sure the team has enough time for themselves to study, travel, share with family, etc.
What made you want to join Smiles Dental?
At first, it was the good comments from my friend who works in Smiles Dental and the flexibility in working hours. Now I have many more reasons to stay.
What are your future ambitions?
I want to keep growing up here. I'll enjoy my new position and give my best to deliver great results. In the future I would like to move up as an Area Manager or maybe Clinical Lead.
What advice would you give to someone looking to make the move into a new role like yours with Smiles Dental?
Take advantage of every opportunity, there's many. Find what you like the most in the practice and master it. It could be compliance, it could be administrative duties, it could even be a dental specialty if you are a nurse, get expertise in that what you like and prove you can manage it. You will enjoy your job, you will do it better and you will move up.
If you're looking for an exciting career with plenty of opportunity for growth email jobs@smiles.ie.
« Back to all articles