Student Guide to Healthy Teeth
Share
On 29 Aug 2013
It is essential you brush your teeth twice a day with a moderate/soft toothbrush and a fluoridated toothpaste. To prolong that fresh taste & avoid decay use floss and rinse with a mouthwash.
• College check list: Laptop, phone & charger and….. have you got a new toothbrush? We recommend to change it every 3-4 months.
• Students are always on the go and to help maintain energy as well as look after your teeth, make sure to eat as much fruit as possible and its part of your 5 a day.
• College days can be long and tiring with many students going for the easy fast food option for dinner or after a night out, this can lead to plaque and decay build up. Make sure you keep it fresh by getting your teeth cleaned every 6 months.
• Any food or drink that is high in calcium are an excellent source to help keep your bones + teeth, strong and healthy.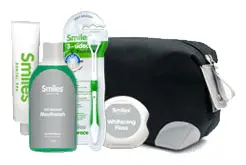 To arrange a check-up please visit any of the 17 Smiles Dental clinic nationwide. At Smiles Dental we welcome all students to our clinics and our helpful and friendly dentists will take good care of you.
To make an appointment or contact us
make an appointment or contact us
« Back to all articles