Smiles Dental Dundrum

Smiles Dental Dundrum,
Unit 2, Dundrum Town Centre
Sandyford Road,
Dundrum,
Dublin 16
Tel:
01 525 0800
Email:
dundrum@smiles.ie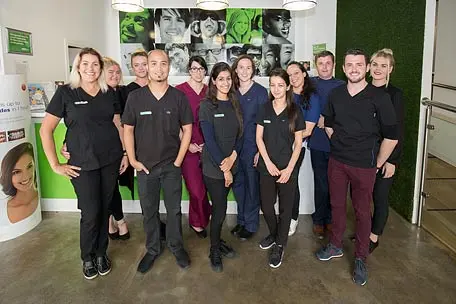 About Us
We're delighted to announce that Smiles Dental Dundrum is now a proud provider of orthodontic treatment. Orthodontic treatment is a branch of dentistry concerned with the alignment of the teeth and can provide a solution to overcrowded teeth or simply straighten a crooked smile. Our new orthodontist Dr Louise Hagen is an expert in maintaining a relaxed environment her patients can enjoy. Speak to us today for more information on orthodontic treatment.
Smiles Dental Dundrum is a purpose built clinic offering a high tech, spacious environment for all your dental needs. We offer a full range of general dental services including emergency and cosmetic dentistry, dental crowns and veneers. This clinic is ideally located just minutes from the Balally Luas stop, any bus stops and we are very close the the M50 Ballinteer exit. We are open seven days a week and offer weekend appointments of Saturday from 10-6 and Sunday from 10-4. We're open 364 days of the year so, we're always here when you need us.
We especially welcome nervous patients here in Smiles Dental Dundrum. Our own Dr Philip Christie has designed a treatment program for highly nervous patients. Dr Christie will welcome you into a safe and relaxed environment. Any difficult experiences you may have had in the past at the dentist can be discussed. An assessment will be made of the specific issues preventing treatment and the appropriate treatment required. You and Dr Christie will then reach an agreement as to what is needed to help you get through your dental treatment with as little anxiety as possible.
Dentist Dundrum: If you have any queries for our clinic in Dundrum or would like to book an appointment please
submit an enquiry here
.
Getting Here
We are located beside Dundrum Town Shopping Centre, a short walk from the Balally Luas stop and Dublin Bus routes 14 and 44. There is parking available in the shopping centre car park and we provide disability access.
Opening Hours
Monday
08.00am
-
08.00pm
Tuesday
08.00am
-
08.00pm
Wednesday
08.00am
-
08.00pm
Thursday
08.00am
-
08.00pm
Friday
08.00am
-
08.00pm
Saturday
10.00am
-
06.00pm
Sunday
10.00am
-
04.00pm
How to find us - view location on map