Smiles Dental Drogheda Teeth Whitening Package
Share
On 20 Sep 2016
The Ultimate Whitening Package with Smiles Dental Drogheda!
Smiles Dental Drogheda
has put together the whitening package deal to end ALL whitening package deals! For a limited time you can get a
Dental Exam
,
Scale & Polish
,
Whitening Toothpaste
AND
Zoom Teeth Whitening treatment
–
all for just €350!
(Terms and conditions apply).
If you were to get these treatments normally it would cost €595 – this deal gives you a massive saving of €245!
To book this amazing offer right now call our Drogheda team on 041 983 8617 or email Drogheda@smiles.ie.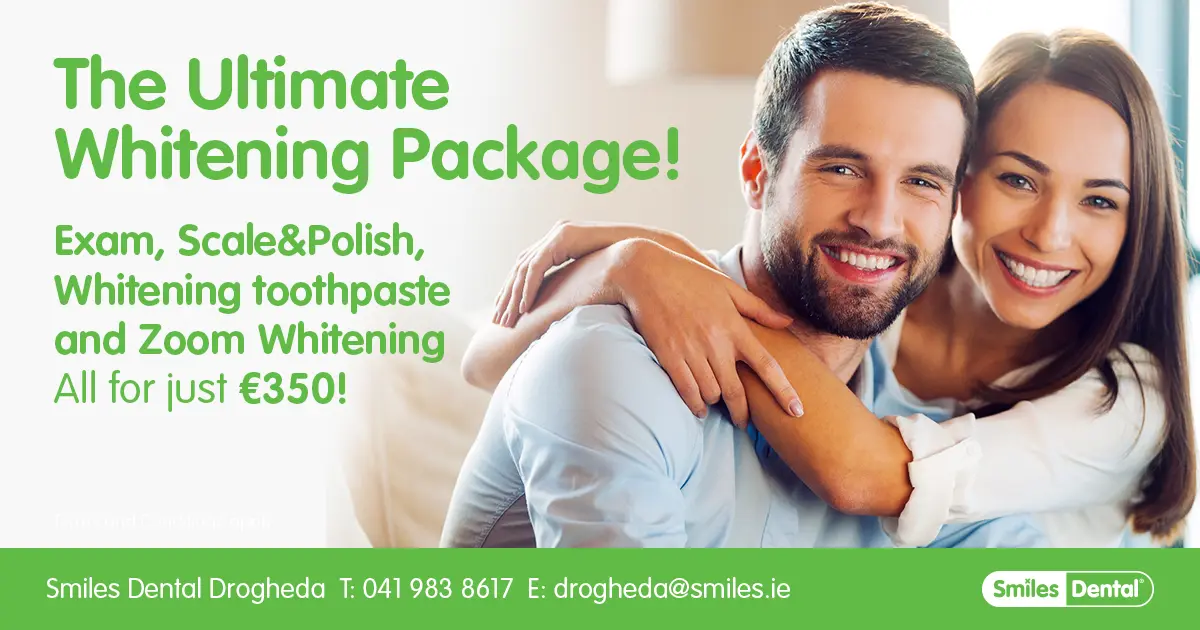 What is Zoom Teeth Whitening?
Zoom Teeth Whitening
is world-renowned for making teeth up to six shades whiter in just one hour. For those who want results fast, Zoom Teeth Whitening is definitely the way to go. Made by Philip's, Zoom Teeth Whitening is 100% safe and professional. Before any whitening treatment, your Smiles dentist will perform a
Dental Exam
to make sure it is 100% safe for you to have whitening. We will never give a teeth whitening treatment to someone who is not suitable.
How does it work?
On your first visit, you'll have a Dental Exam (the cost of this in included in the package). Time permitting you may also be able to get your Scale & Polish on the first visit too (also included). Then your custom trays for the Zoom Teeth Whitening will be made.
On your second visit, the Zoom treatment will take place. Your Smiles dentist will apply a teeth whitening gel to your teeth and using the Zoom laser light will remove stains and discolorations. This will occur three-four times, for fifteen-minute cycles, as your teeth gradually become whiter. We'll provide you with top-ups too, so you can keep your smile white at home.
Book now!
This offer is available exclusively in
Smiles Dental Drogheda
and for a limited time. Our Drogheda practice opens from 8am to 8pm during the week and opens on Saturdays too – so getting an appointment to suit you is easy. So don't delay and take advantage of this amazing offer – remember you stand to save €245! That's a big chunk of change 🙂
Call Smiles Dental Drogheda now on 041 983 8617 or email Drogheda@smiles.ie.
Terms and conditions
• Offer available in Smiles Dental Drogheda only
• Only one entry/promotional undertaking per person is permitted
• This offer cannot be used in conjunction with any other offer
• The closing date of offer are determined by Smiles Dental
• We reserve the right to amend these rules at any time
• No cash alternative to this offer is available
« Back to all articles