Medical Card Patients in Balbriggan!
Share
On 27 May 2016
Smiles Dental Balbriggan taking Medical Card Patients!
Great news for people living in Balbriggan!
Smiles Dental Balbriggan
is accepting Medical Card patients! So if you have a Medical Card you could be entitled to free dental care (Terms and conditions apply).
We are seriously passionate about patient care at Smiles Dental – so let us help you get the bright and healthy smile that you deserve.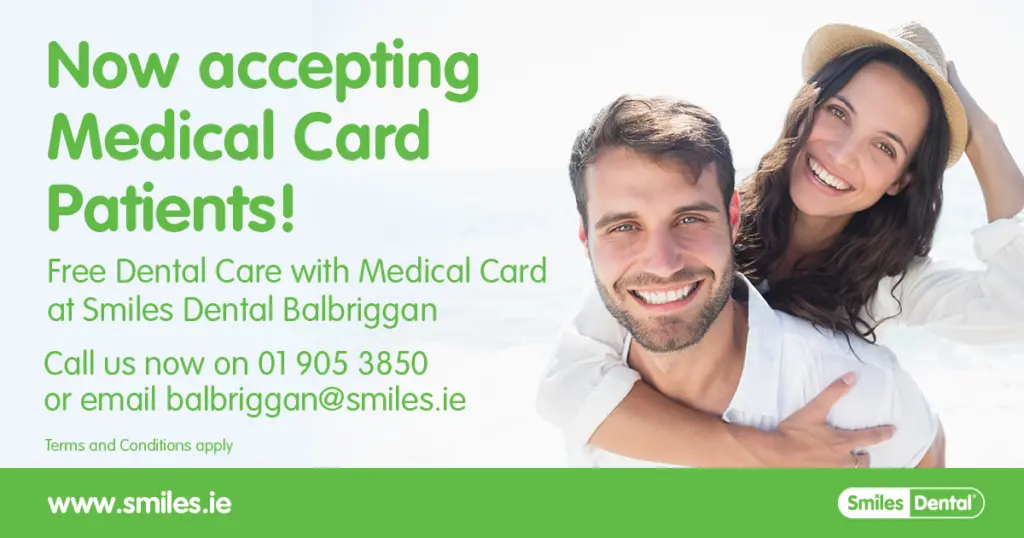 What am I entitled to?
• One
Dental Exam
per year
• Initial
Root Canal Treatment
• Two
fillings
per year
•
Tooth extractions
For a full list and explanation of what dental benefits you're entitled to check out the
HSE website
.
Why choose Smiles Dental Balbriggan?
• Exceptional patient care
• Honest and affordable prices
• Longer opening hours
• Full range of dental treatments
• Private, PRSI and Medical Card patients welcome
Paying PRSI?
If you're paying PRSI you could be entitled to a free
Dental Exam
. This is still relatively unknown in Ireland – over two million people here are paying PRSI, yet not many people know that this entitles them to a free Dental Exam!
To find out if you can get your free Dental Exam just call your nearest
Smiles Dental practice
number and have your PPS number handy – we can check for you and then book your appointment! Easy.
Book your appointment
Practice Manager Donna and her team are standing by to take your appointment. Get in touch on 01 905 3850 or email balbriggan@smiles.ie.
Don't forget to follow us on
Facebook
,
Twitter
and
Instagram
for all the latest news, offers and advice.
« Back to all articles