Available Treatments
General Dentistry
General dentistry
Cosmetic dentistry
Teeth whitening
Root canal
Fillings
Crowns
Bridges
Veneers
Dentures
Dental hygienists
Emergency dentistry
Specialist Treatments
Dental implants
Oral surgery
Periodontics
Endodontics
Prosthodontics


Orthodontics
Fixed braces on arch and/or both arches
Six month smiles
Invisalign
Dentist in Galway
Smiles Dental Clinics in Galway
When you need us, we'll be here. Just find your nearest Smiles Dental clinic in Galway and click 'visit clinic' for our opening hours and contact details.
Gate Clinic Smiles Dental News
Keep smiling at Electric Picnic 2017The wait is over! Electric Picnic kicks off tomorrow! Thousands of people will descend on Stradbally for the biggest party of the year. While you're having the time of your life watching the crem de la crem of Irish and international artists, it's important to look after yourself. And that […]
Read more...
Partial Dentures Galway
Although acrylic (plastic) dentures are always an initial option and often chosen following the loss of teeth, we would always recommend "chrome cobalt" dentures.
Chrome Cobalt is a thin, light and strong hygienic alloy, silver in colour.
They grip the remaining teeth better to give improved function when eating and talking. The thin metal clasps are individually designed to engage the undercuts of the supporting teeth. These clasps can be made of silver or gold.
They will usually cover only a fraction of the roof of the mouth compared with the acrylic option which covers the whole of the palate.
They are light, slim and hygienic.
They can often be added to, if a further tooth fails.
They can be combined with precision attachments, crowns and dental implants in more advanced cases to increase retention further and eliminate the need for metal clasps.
Attention to detail is the key to success. Using double impression techniques with customised impression trays to give precise details we cast the models up here in our own laboratory and work with our master technician on the required stages:
1. Initial impressions.
2. Second impressions in custom trays and denture design.
3. Metal frame fit check, tooth selection and bite determination.
4. Final try-in and patient approval of colour, shape of teeth and comfort.
5. Final fit.
6. Follow up and aftercare.
Gate Clinic Smiles Dental
If you have any queries for our clinic in Galway or would like to book an appointment please
submit an enquiry here
.
Getting Here
We are located in the docklands area of Galway City, a short walk from Galway Train Station and all public transport routes. On street parking is available and there is an underground carpark facility close by also. The map below will assist you in finding our location. If you need any additional information, please contact us by calling 091 547 592.
Opening Hours
Monday
08.00am
-
08.00pm
Tuesday
08.00am
-
08.00pm
Wednesday
08.00am
-
08.00pm
Thursday
08.00am
-
08.00pm
Friday
08.00am
-
08.00pm
Saturday
10.00am
-
06.00pm
Sunday
10.00am
-
04.00pm
Cerec Technology (Ceramic Restoration Construction)
As the first practice in Ireland to incorporate the Cerec system, we've been using it in the practice now since 2001. Using a small "camera" to take an optical impression of your tooth or cavity, we can now design the new restoration on the computer, cut it out of a solid block of matching porcelain and fit it in the same visit. With the advantages of final restoration in one visit that means only one anesthetic, no temporary, reduced need for putty impressions and tooth coloured ceramic restoration. This technique can be used to provide white fillings, inlays, onlays, crowns, and veneers which are both aesthetically pleasing and have a proven prognosis. With this increasing computer sophistication we can now use a miniature infrared camera to take images of your teeth and design and manufacture your restorations in one visit.
What can we do with Cerec: one visit techniques
Fillings
Crowns and Veneers
Bridges
Implant restorations
As the first practice in Ireland to offer this facility, and with the International Trainers Certificate, we are able to offer this service as part of our normal working day. Restoration of either an old filling or a new filling presents the dentist and patient with choices and decisions. Nowadays we still have the choice of amalgam (silver/ mercury), composite (glass filler and paste), gold fillings or porcelain. Although we offer all the above materials, increasingly we look to advantages of porcelain restorations fabricated using the Cerec 3D system.
These have many advantages
The porcelain is bonded to the tooth structure. This allows for a conservative preparation preserving as much tooth structure as possible
The material can be matched to the tooth colour and has a natural translucency that mimics enamel
It has wear characteristics similar to natural enamel. It will not have adverse effects on the opposing teeth and will age at a similar rate as the tooth around it
It can be completed usually in one visit
One aesthetic
No temporary restoration required
No impressions needed
High polish and material stability with good gum health
Long term monitoring. X-rays will pass through the porcelain but the cement will show up as a bright line. This can easily be monitored at later check ups
Failing Amalgam to Cerec Inlay Photos:
Cat Scanner I-CAT-3D Imaging
We have the first I-Cat in Europe of a new generation of 'volume' scanners.
The Cat Scan may be used for investigation of:
Dental Implants
.
Looking at cross sections of the bone to plan the precise placement of implants. This allows us a pre-surgical assessment to optimise the parameters of:
Presence of any pathologies
Length of proposed implant
Depth of proposed implant
Diameter of proposed implant
Orientation of proposed implant
Presence of other vital structures (nerves, sinuses etc)
Adaptation to the planned restoration
This information can then be used by the surgeon to facilitate your treatment plan.
Dental Infections requiring root canal therapy
The I-Cat will show any infections and define the extent of the infection and morphology of the roots.
Orthodontic assessment
We can determine the precise position of un-erupted teeth and how they relate to each other and the bone structure.
Oral Surgery
Wisdom tooth assessment and surgical procedures will have increased safety. Look before you leap.
Cat Scan Volume 1 Endodontic Lesions and Cysts
Digital Imaging
We choose carefully when and how our radiographs are taken. Radiographs enable us to detect cavities in between your teeth, determine bone level, and the health of the bone.
Exposure time for digital dental radiographs is minimal, with exposure time about 80% less when compared to traditional radiographs. With Digital imaging we can also store and retrieve valuable diagnostic information over a long period of time without deterioration. The advantages of digital imaging enables us to not only store patient images, but also to quickly transfer them to appropriate specialists or insurance companies.
Digital X-rays
Digital X-rays offer more precision as we view the image on a computer monitor, instead of holding up a 35mm film to the light. Simply speaking we can view the images in greater magnification and alter the filters we use to allow better understanding.
Periapical or Bitewing X-rays
Full mouth X-rays with small films will give detailed analysis of your individual teeth and gums. This allows us to analyse your current restorations, any developing pathologies and the bone levels around your teeth.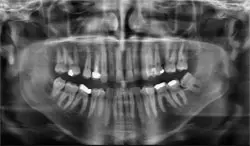 OPG (Orthopantogram)
OrthoPantoGramThis is a Digital OPG – a two dimensional image which gives an excellent overview of the teeth, the supporting bone and areas of bone loss, the presence of any root canal treatments, and many pathologies which might need further investigation.
We may take this X-ray initially to give an overview of your dentition and structures of the jaws to assess which areas may need investigation.
Intra-oral Camera
Many patients, especially younger patients, are very familiar with the latest technology and are more comfortable with the high tech practice. We utilise intra-oral camera technology that helps enhance your understanding of your diagnosis. An intra-oral camera is a very small camera. This allows us to view clear, precise images of your mouth, teeth and gums. With clear, defined, enlarged images, we see details that may be missed by standard mirror examinations and we can share these with you to help you understand your options more fully. This can mean faster diagnosis with less chair-time for you.
Intra-oral cameras also enable our practice to save your images in our office computer to provide a permanent legal record of treatments. These treatments can be printed for you, other specialists and our laboratory technicians.
The Intra oral camera is used for:
• Improved communication between dentist and patient
• Clinical records – can be made of before during and after treatment
• Comparison at a later date. The best way to determine if a problem is progressing is to take an image and compare to it later.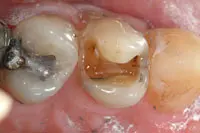 This patient had lA failing filling,
• Had sensitivity to hot and cold
• Wanted to replace the old filling with a white porcelain inlay
Using the intra-oral camera we were able to show the extent of the problem. Note the hair line fracture.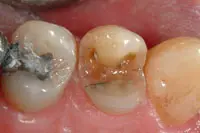 Tooth cleaned for Cerec Inlay. Note hairline fracture.
Having prepared the tooth to protect the fracture line with a Cerec Onlay, the full extant of the fracture is visible.
The Onlay Crown will cover and seal the fracture line to prevent further propagation.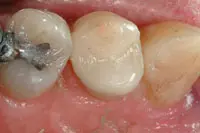 Creek Crown in place – the final restoration.
Used for:
• Improved communication
• Clinical record
• Education
• Comparison at a later date
Communication with intra-oral camera improves understanding and decision making.
Microscope Dentistry
Our practice uses high power operating microscopes to enhance the precision of patient care. Dentistry is micro-surgery. Essential in root canal therapy, we also now use the microscope for a wide range of procedures. Using a similar microscope that an ophthalmologist uses improves your dental examination when required, the inspection and provision of dental restorations with an improved precision and the fit and finish of most restorative procedures.

View of fillings at x2 magnification with Microscope Dentistry. The first image is twice the normal size of real teeth. Working as a dentist at this magnification is a great help.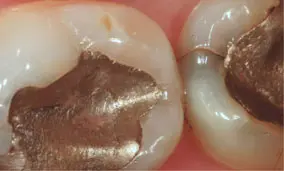 View of fillings at x8 magnification with Microscope Dentistry. However when detail is required for diagnosis or for maximum precision x8 magnification will facilitate greater control.
In addition to allowing precise, close up work, the microscope directs a beam of light directly on the teeth, minimising glare to you. Essential for modern standard of endodontics, we have been using the dental microscope now for over ten years for routine dental care. Many dentists use air-driven "hand-pieces" (the dental term for "drills"). While acceptable for many procedures, these "whiney sounding" powered hand pieces all have a degree of non-concentricity; they do not rotate perfectly smoothly.
For the most precise aspects of restorative procedures, we use electric hand-pieces. The combination of magnification and the ability to finish procedures to a fine standard results in more precise interfaces between your tooth and your new restoration. This will bring more comfort to you as well as an improved long term prognosis.