Refer a Friend and get a FREE €15 One4all Gift Card!
Share
On 18 Dec 2015
Refer a Friend to Smiles Dental Balbriggan
We've got exciting news for our Smiles Dental Balbriggan patients. It's our Refer a Friend Offer…
There's a very special offer taking place in our newest practice,
Smiles Dental Balbriggan
. For a limited time, if you refer a friend to Smiles Dental Balbriggan we will send you a FREE repeat
FREE
€15
All4one Gift Card
! (Terms and conditions apply). Give our Balbriggan team a call right now on 01 905 3850 or email balbriggan@smiles.ie to find out more.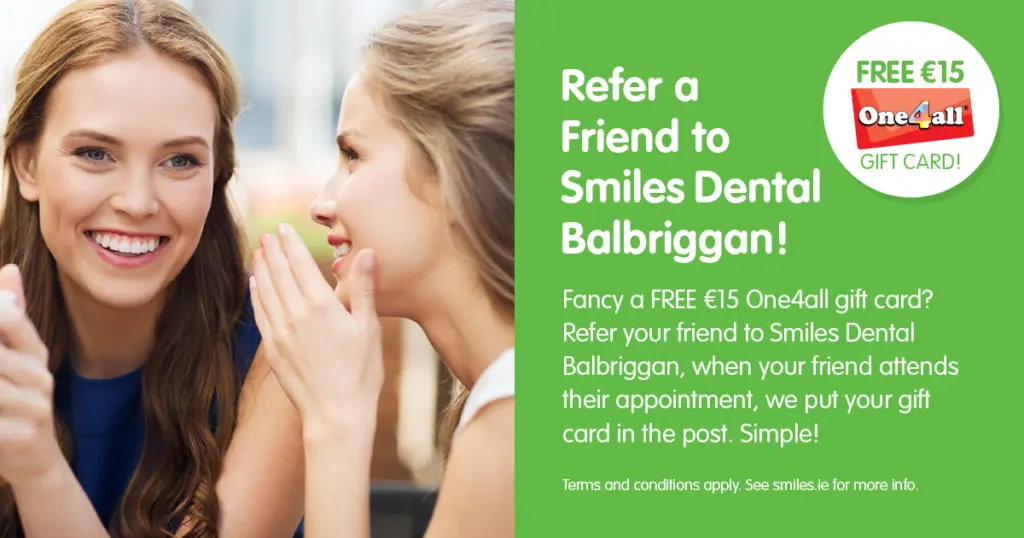 How does it work?
It's super simple. Just tell a friend about the exceptional dental care you received with
Smiles Dental Balbriggan
, when your friend attends their own appointment in Balbriggan, we send you your free €15 Gift Card. It's that easy!
The best part is, you can refer as many friends as you like. For every one that attends an appointment with Smiles Dental Balbriggan you get a Gift Card. It's a classic win-win situation. Your buddy gets our fantastic patient care and treatment, and you get a nice treat too!
Are you a Smiles Dental Balbriggan patient? Get referring!
It's time to get on the phone, send out texts, whatsapps, snapchats, faxes, smoke signals… whatever! Let your friends know about the amazing dental care on their doorstep in Balbriggan and get your free €15 All4one Gift Card.
Where can I spend my Gift Card?
You've got oh so many choices! From Argos to Arnotts, Clarks to Currys, your options are, in a word, amazing. You can use your One4all Gift Card in hundreds of quality retailers, hotels, experiences… the choice is yours. Hit
here
for a full list of the awesome places that accept One4all.
Choose Smiles Dental, for a happier smile.
Terms and conditions
• Referrer (person who refers a friend) must be a current patient of Smiles Dental Balbriggan
• Referee (person who has been referred) must attend Smiles Dental Balbriggan
• Offer only valid when the referee attends their appointment as a result of referral
• No cash alternative is available
• This offer cannot be used in conjunction with any other special offer
• Smiles Dental reserves the right to amend these terms and conditions at any time
« Back to all articles